Someone asked me an interesting question last week: what would you do if given precisely 5 years to live, assuming your death was to be neither traumatic or fearful (a big ask I know). My immediate answer was to do more fishing. Then I considered the question again - family, travel, money - well, they all crowded in but in the end I circled back to fishing. As former Liverpool football manager Bill Shankley replied when asked whether football was life and death, "No, it's more important than that."
Well, I'm not intending to die just yet (make that my epitaph) but I'm beginning to think Bill may have had a point. Let's face it you'll never be able to re-live the year again. Once the days are gone, they are gone. The cadence of the summer months can't be jammed into single day or week. So, having decided on the principle of more fishing I think I better set a few parameters.
Ilsington - River Frome
To start off with I going to be a bit more relaxed, less proprietorial if you like. I have a feeling that the river keepers live in fear of my announcement that I am coming fishing - texts and calls will follow. If I'm particularly exercised photos with pithy captions. But then again that is my job, so I might have to work on that one.
I'm definitely going to be less of a fishing tart. I've sort of become like one of those gnarled ski guides (habits not looks) who only venture out on to the slopes when the conditions are perfect plus. Yes, I say to myself, I'll go fishing tomorrow. But come the morning I'll look out the window, decide that it is a less than optimum day and conclude that the following day will be better. Maybe this should be called mañana fishing because the truth is you end up hardly ever going. However, in the credit column it does make you have a great strike rate when you actually get out.
I did consider making 2016 an all dry fly year but have ditched this idea. In a purist, set the bar high sense it might be interesting but I genuinely enjoy sight nymph fishing. Plenty will argue that this is the most skilful chalkstream art. I'm not going to get into that, but if I'm fishing more that should mean more fun and nymphs are fun.
However, I am going to broaden the selection of flies in my box. In recent years I have gotten into the habit of carrying fewer and fewer patterns, relying on a few 'go to' ones. I can't remember the last time I looked at the array, saw a fly I didn't recognise and thought what the hell, let us give it a whirl. A bit of randomness can't do any harm.
And where to go? In truth is the older I get, the less prescriptive I am. Of course I have my favourites but that is increasingly about the people - the river keeper who stops his mowing to shoot the breeze. Neighbours who gossip about local goings on. A good pub for lunch. But aside from that the combination of a river and fishing just about anywhere is enough for me. As my old Dad used to say, you're a long time dead.
It is time to go fishing.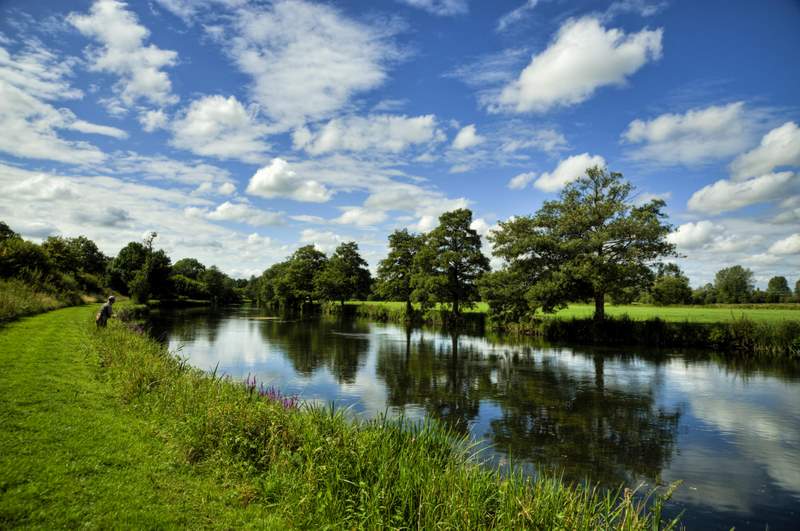 The Parsonage - River Test
COUNTRYSIDE EXPERIENCE SHOW
The demise of the Game Fair has left something of a hole in the event calendar but you'll be pleased to hear that the guys at Meon Springs in Hampshire have really created something good for fly fishermen as part the Countryside Experience Show that takes place this weekend (April 9/10th).
I really do like the The Kids' Pond. As organiser Jamie Butler says on the web site:
"Even if you're too small to wave a fly rod - but are big enough to want the excitement of catching a trout - then the Kids' Pond is for you.
It's aimed at children between three and eight-years-old and it gives them the chance to catch their first fish, Under the supervision of a qualified instructor they'll be able to have a go with a rod, reel and some bait to see if they can catch a trout to take home. Great fun!"
This is all part of the Fishing Village which includes:
Casting Masterclass with Charles Jardine
Try before you buy with Snowbee Tackle
20 minute Casting Tutorials with GAIA instructors
Fly tying tent with Wessex Fly Tyers
The show runs from 10am-4.30pm each day. There are sections for shooting, gundogs, 4x4 driving and farming. Tickets and informatio
n
www.countryexperienceshow.com
QUIZ
This week three questions with a slight natural history/evolutionary bent. It's just for fun and answers are at the bottom of the page.
1) Which birthday does David Attenborough celebrate this year?
2) In which year was Charles Darwin's
Origin of the Species
published?
3) Which is the oldest living plant species?
HATCH & FLY OF THE MONTH
Founder & Managing Director
Quiz answers: 1) 90th
2)

1859
3) Gingko tree (pictured)